ELEVATE YOUR BRAND'S STORY
CHARMING provides trim, packaging and RFID technology solutions tailored to your brand's unique needs. With CHARMING, you can trust that your brand story will be delivered with premium and innovative products that extend your message and improve your supply chain.
ABOUT US
We help brands marry technology with creativity to create flawless consumer experiences. From creating premium trim and packaging to helping you get your products into the hands of your consumers quickly, we're here to help you elevate your brand at every touch point.
Technology is changing how we look at the world and success looks a lot different these days. Things like sustainability and inventory management are also critical pieces of the puzzle. That's why our approach to helping you optimize your supply chain continues to evolve and adapt. With our latest acquisition of Truecount, a leading RFID software, we can help understand what you have, where you have it — and create amazing consumer experiences along the way.
Since 1991, we've been providing top-notch service, industry knowledge, and expertise to help companies achieve brand and business goals. We're home to some of the most accomplished talent in design and technology, all committed to helping you create brands consumers love. We take pride in our international scale and abilities but give clients the service they'd expect from a smaller company — after all, that's part of our charm.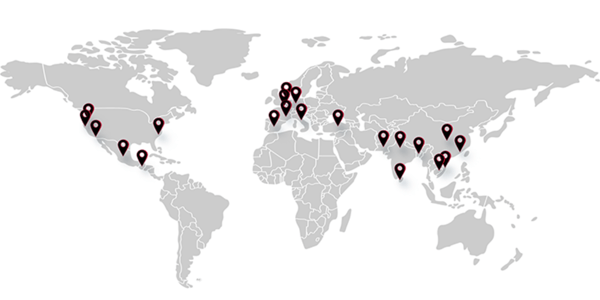 China • Hong Kong • Bangladesh • Cambodia • Vietnam • India • Sri Lanka • Pakistan • Belgium • The Netherlands • Germany • Italy • Turkey • Spain • France • United Kingdom • Guatemala • Mexico • New York • Los Angeles • San Francisco • Portland
GET INSPIRED
We believe that choosing the right trim and packaging is essential to creating an unforgettable brand story that resonates with your customers.
Let one of our experts help you extend your message by using only the highest quality products and supply chain solutions that solve your most challenging design needs.

No video selected
Select a video type in the sidebar.
SUSTAINABILITY
The word sustainability gets thrown around quite a bit these days. At CHARMING, it's not just a trend or buzzword that we take lightly. We're proud to offer a full range of certified sustainable apparel branding materials --from recycled labels to eco-friendly hang tags to green RFID. When we say sustainable, we mean it and have multiple certifications to back up our claims. No surprises here, we promise.
CERTIFICATIONS
We are proud to offer a full range of recycled, eco-friendly, and sustainable packaging and branding products. We continue to invest in environmentally sustainable solutions and can supply certifications to help your good name look even better.