THE COMPLIANT-READY
JOURNEY OF YOUR GARMENT

The CHARMING.DIGI digital passport solution satisfies
sustainability and circularity requirements,
even as they're being defined.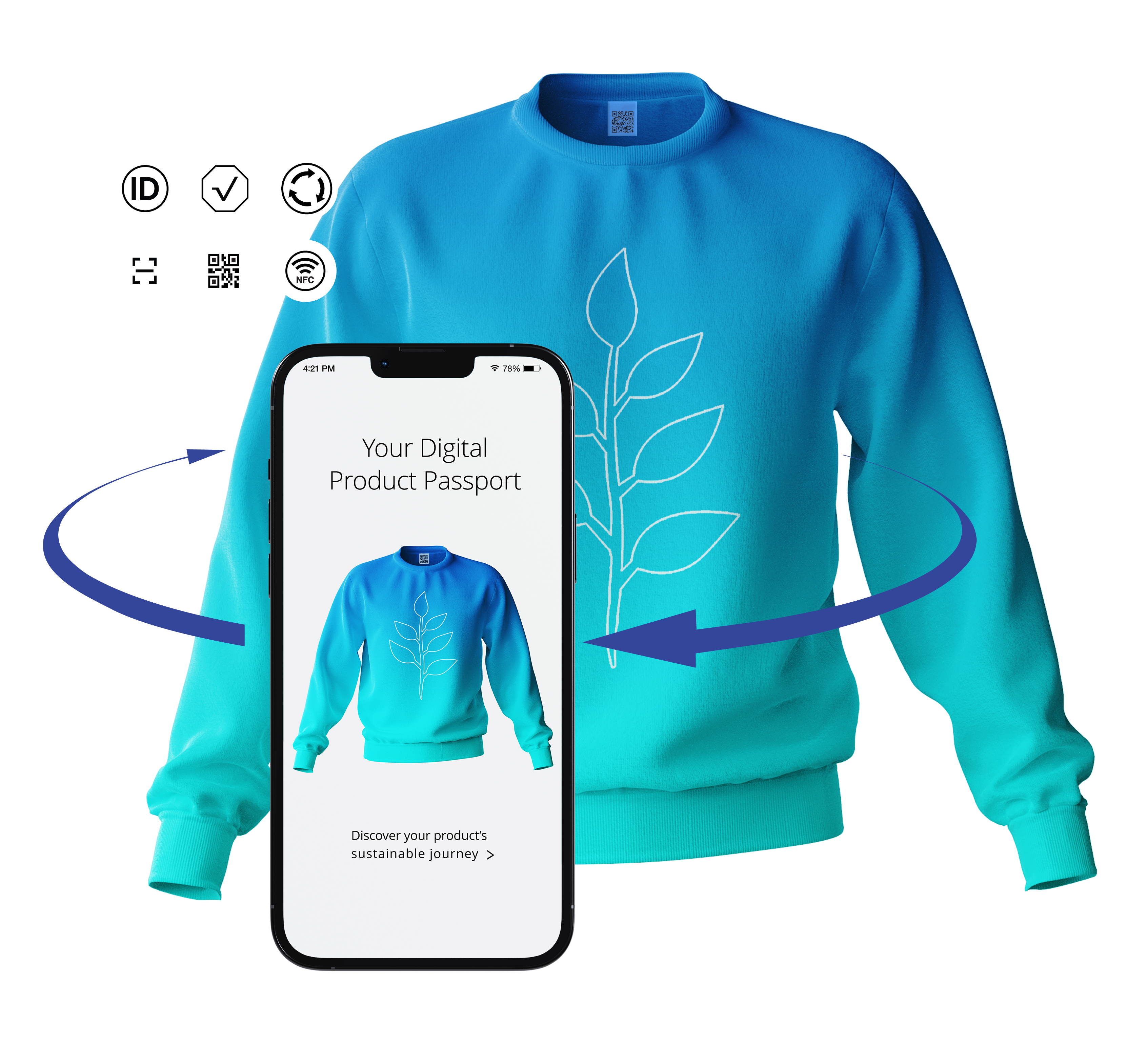 PUT CIRCULARITY REQUIREMENTS TO WORK FOR YOU
Customers want to know where their clothes come from, how they were made, and what they were made from. With the introduction of the EU Strategy for Sustainable and Circular Textiles, soon it will be mandatory to disclose that information.

Why not make that requirement do double duty? With CHARMING.DIGI, it's easy to repurpose that information. Go ahead, tell the story of your brand's item and engage with your customers as you do.
GET STARTED WITH CHARMING.DIGI IN JUST 4 EASY STEPS
Using familiar technologies like QR codes and NFC tags, Charming.DIGI leverages a unique, interactive digital ID to deliver compliance data about your product while you tell its complete and transparent story.

UPLOAD YOUR BRAND ASSET
Login and easily define product attributes, add/link images and assets, set up/manage data uploads, and create links to social. Plus, create real-time data and data asset interfaces that integrate with your ERP or PLM system.

BUILD YOUR PRODUCT PASSPORT
Login and easily define product attributes, add/link images and assets, set up/manage data uploads, and create links to social.

CHOOSE QR CODE OR NFC TAG
Make your QR code or NFC tag prominent with a strong call to action. Consumers can tap or scan the code or tag with their mobile devices and see your unique message that's compelling and on brand.

ACCESS CUSTOMER INSIGHTS
In the dashboard, view product engagement, registration, and geo data. Drill down to see product registrations, QR code impressions, product details, and custom reports.
INSTANTLY TURN YOUR PRODUCTS INTO MOBILE MARKETING CAMPAIGNS WITH A DIGITAL ID

We make it simple to create and add product-level content. Custom QR codes or NFC tags deliver personalized content to consumers where it matters most — at the time of purchase and beyond. TRANSLATION AND LOCALIZATION


We know how critical translation and localization are in apparel manufacturing. Charming considers this a given in all our offerings. CHARMING.DIGI is no exception. GDPR AND ISO COMPLIANT


CHARMING.DIGI is compliant with the International Organization for Standardization (ISO) as well as the General Data Protection Regulation (GDPR) act — so you can rest assured that we prioritize sound business practices and take privacy and security seriously. WANT TO SEE CHARMING.DIGI IN ACTION?

Prepare for compliance. Drop your email below for a demo of CHARMING.DIGI and we'll show you how you can prepare now for textile mandates and set your brand up to be an early adopter.