SUSTAINABLE & ECO FRIENDLY LABELS AND ECOMMERCE PACKAGING
The word sustainability gets thrown around quite a bit these days.
At CHARMING, it's not just a trend or buzzword that we take lightly.
OUR SUSTAINABLE PACKAGING AND TRIM
PARTNERING WITH YOU AND THE PLANET
Pollution caused by apparel manufacturing releases approximately 1.2 billion tons of greenhouse gases annually, according to The Market Research Company. To make matters worse, one truckload of clothes is sent to landfills or burned every second,
Aside from environmental factors, consumer awareness and demand for sustainable fashion is also increasing. The global market is expected to grow to reach almost $15.2 billion by 2030. Given only 1% of clothes are recycled, the time to act is now.
For brands, being better to the planet can be a big commitment. Sourcing better materials, making better choices in manufacturing and labor, all the way through the supply chain, sales and returns -- it's a big job.
The good news is we've got your back. CHARMING is here to make sustainability simpler when it comes to sustainable & eco friendly labels.

From recycled labels to sustainable stickers on eco-friendly sticker paper, eco-friendly hang tags, e-commerce packaging, and everything in between, you can count on us at every step of the way. We help you understand the critical differences between things like kraft paper labels, biodegradable labels so you can make sure your sustainable labeling is everything it should be. We also offer water-based inks -- so no matter their color, you can be sure they're green.
Plus, we step up sustainability by making it smart. Our greener RFID products dramatically reduce the amount of single-use materials and up your tech game. With CHARMING's RFID labels, you can keep your eye on your supply chain knowing exactly how much and where your inventory is without contributing to the landfill.
Now that's what we call Charming.
SUSTAINABILITY CERTIFICATIONS AND AFFILIATIONS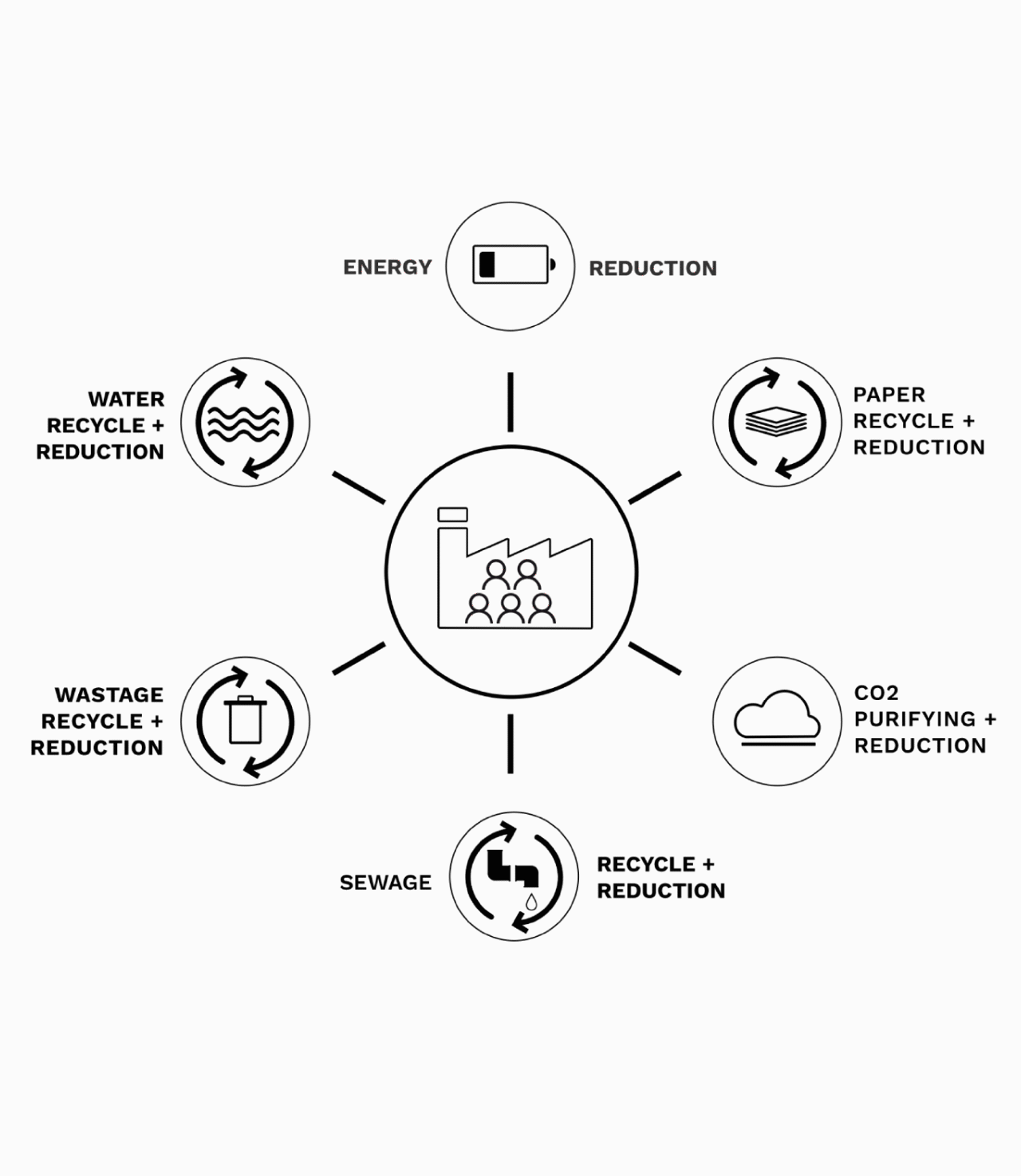 PAPER AND ECOMMERCE PACKAGING
We take pride in designing and developing beautiful, eco-friendly packaging solutions tailored to your brand's unique aesthetic, sustainability, and quality goals.

WHAT ARE SUSTAINABLE MATERIALS?

When we say CHARMING offers sustainable & eco friendly labels and packaging, we mean it. As a bluesign certified system partner, we have the most comprehensive certifications, and we use materials that are truly eco friendly, including:
Bamboo paper: Uses less water than standard paper. Bamboo regrows as soon as it is cut down. It's naturally strong, soft and white.
Cotton paper: Made using cotton linters or cotton from used cloth as the primary material, it can last many years without deterioration. Cotton paper is superior in both strength and durability to wood pulp-based paper.
Crop paper: Made from a mix of agricultural residue: bagasse (sugar cane pulp)/cotton/bamboo.
CRUSH paper: Crush is certified GMO free, made using process residues from organic products (citrus fruits, corn, olives, coffee, kiwi fruits, cherries, lavender, grapes, hazelnuts and almonds) to replace up to 15% of virgin tree pulp.
POOPOOPAPER™: Tree-free, eco-friendly, odorless paper made from elephant poo and consumer waste paper.
Recycled paper: Waste paper recycling most often involves mixing used/old paper. It's then de-inked and mixed with water to break it down. To be eco-friendly, it should not be bleached.
Stone paper: Made out of calcium carbonate 80% (limestone) and bio-polyethylene resin 20% (HDPE). Dense in nature, stone paper products retain their shape over time and are waterproof and washable. Stone paper can be disposed of and recycled in standard ways. Once discarded, it can be turned back into calcium carbonate and become limestone again. Stone paper is originally white, so does not require any bleaching.
Sugarcane paper: More eco-friendly to produce than wood paper, Sugarcane Bagasse is a fibrous matter that remains after juice extraction. The pulp is made into a paper-like substance called Bagasse which can be molded into different shapes and products.

WOVEN & PRINTED ECO FRIENDLY LABELS
You're in good hands with CHARMING. We can help you reduce your environmental impact without sacrificing your brand. We're proud to offer a more eco-friendly range of premium labels, trims and packaging that are produced from sustainable and renewable resources, including:
Organic cotton: Produced and certified to organic agricultural standards. The production is made by natural processes, without any artificial inputs.
Recycled cotton: Endorsed by various studies as the most sustainable form of cotton due to the fact that the high environmental impact caused by regular cotton cultivation does not apply
Recycled polyester: a man-made fabric produced from synthetic fibers from existing plastic instead of utilizing new materials to craft the fabric (i.e. petroleum).
PATCHES
We believe patches can be powerful brand accents. When made sustainably, they quietly communicate that your brand is making thoughtful and deliberate choices to help protect our planet. You can count on us to craft beautiful patches using the following:
Cradle to Cradle Certified™ Jacron: A sustainable vegan leather alternative made from raw cellulose, it offers durability and an 'animal free' alternative to your traditional leather patch.
Jacron: a durable and practical washable paper that's leather-like in feel, but also environmentally and vegan friendly.

It's

responsibly sourced and produced.
Global Recycled Standard (GRS) Polyester emblems and patches: Available with recycled materials that meet GRS standards.
Greener RFID

With our recent acquisition of Truecount, a leading RFID software, we're even more committed to advancing and modernizing how brands manage their supply chain. Our RFID software and labels are friendlier to the planet than long (and slower) paper trails.

To go a step further, we bump up those efforts towards sustainability. In the traditional manufacturing of RFID inlays, harsh acids are used. If not disposed of properly, these chemicals can harm the air, soil and water. This is why we insist our RFID inlays are made without acids.